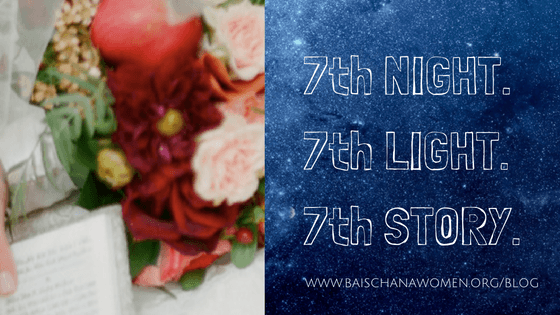 Sarah Leah's Light: Bashert Now!
RACHELLE: You started a matchmaking (shidduch) organization to help Chabad singles… tell me about how that works.
 SARAH LEAH: It's called Bashert Now! and we help Chabad and Chabad-friendly singles meet their bashert (soulmate).
Bashert Now! has a global network of shadchanim (matchmakers). Some are Chabad shluchim and lots of other people – all of whom are involved in setting up singles.
The single guy or girl creates a shidduch profile, and we email their profile to our global network of shadchanim. Bashert Now! was started 2 years and 4 months ago… and since that time, hundreds of singles in our network have gotten married.

RACHELLE: What inspired you start Bashert Now?
SARAH LEAH: I had been living in Crown Heights for about two years and was single and dating and trying to meet my bashert. I was feeling very frustrated that I hadn't met my husband yet. Not only that, but I found that dating took tons of time… having to spend time networking with shadchanim, research prospects, and get ready for and go on dates.
I figured – if instead I used that time to help other singles get married, at least I would be feeling more productive. I reached out to a number of people who were successful in shidduchim (matchmaking).
One of the people who I reached out to was Sholom Blatter who had started his own shidduch network called Ezer Knegdo. I modeled my network after his. And we are our own success story as thank G-d, Sholom and I are now married!
RACHELLE: Can you elaborate a little on the research you were doing that made you start this?
SARAH LEAH: I was speaking to different people, calling different rebbetzins and shadchanim and asking them – what's working? What's not working? And that's what led me to realize what else could be done for singles.
I've helped a number of Bais Chana women get married – and it's a beautiful thing being able to help.
RACHELLE: What's the hardest part about what you do?
SARAH LEAH: Here's the thing to remember: as my husband always says, it can take years to help a person. With shidduchim you need to take a long term approach.
But not everyone is ready to invest years into someone, and you don't know who is getting married at 20 or who is getting married at 50. That's up to them and Hashem.
Shidduchim is not a question of – here's a boy, here's a girl, and 1…2…3… Go! Some people have to date for 20 years and you don't know how long it will be for each person. It comes down to patience.
In shidduchim, if a person is helping another person – like shluchim who are making matches for people who became observant through them – it can take years. I know Chabad Shluchim who have been helping their baalei teshuvas for four years on shidduchim.
Learning to be patient while helping people throughout the process is key.
RACHELLE: What do you want others to take away from Bashert Now! ?
SARAH LEAH: Our main message is that there is hope!
Thank G-d, there are members between the ages of 18-81 in the Bashert Now! network who have gotten married! Yes, if you want to get married, and you go on dates, you can get married.
It doesn't matter your age or your situation. If it's a first time marriage or not. The message is that there is hope.
People are getting married and you can too.
RACHELLE: What advice would you give to people who are looking to get married?
SARAH LEAH: My advice to people is: if you want to get married, network however you can (on various websites) and also tell people you know that you are looking to get married. Ask them if they know anyone. Keep networking and dating; your bashert is out there.
And if you want a segula, here are two:
Get involved with helping others with shidduchim. Spend time every day setting other people up. Set up your friends with guys you've dated. 

Set up people you meet on Shabbos with other people you meet. If everyone is setting people up, there would be a lot more marriages. We can all be

shadchanim

.

Give

tzedaka

: give money to organizations that help facilitate marriages and to organizations that help kallahs.
RACHELLE: How did Bais Chana affect you?
SARAH LEAH: Bais Chana is amazing! I first went over 2 years ago when I started Bashert Now! At the time I went, I was there because I needed some spiritual inspiration.
And when I was there, that's when I started Bashert Now.
Bais Chana was transformative for me; not only did I learn a ton but the friendships I made have been key for me. I am still close to a number of my Bais Chana friends today!To find out more about
Bashert Now! or to join the Bashert Now! email list: https://bashertnow.org/